« Back to Latest Posts
Barbara Cameron
January 22, 2013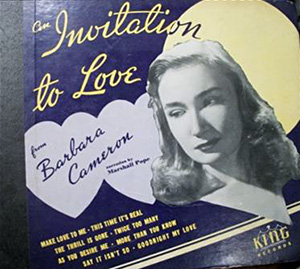 For a period in the mid-to-late 1940s, the name "Barbara Cameron" was everywhere at WLW. The Dayton-born songstress was hired to replace none other than Doris Day in late 1943 and the attractive 18-year-old quickly filled several holes in wartime-depleted WLW's vocal department. Barbara sang on the popular late-night Moon River, of course, and was a member of the Grace Raine-created trio "Mary, Jean and Betty." (Grace was the longtime WLW vocal coach.) When Ruth DeVore left her sister's, Billie and Marge, popular DeVore Sisters trio, Barbara was plugged in to take Ruth's part in the nationally broadcast Moon River syndicated series heard all through the South. Barbara was even one of the first WLW acts given permission to record at the fledgling King Records, coming up with an eight-side "album" box: An Invitation to Love. In the 1950s, Barbara expanded her local reach at WKRC as an early television hostess and variety star. Newly married to a rising executive at the Ziv company, Barbara and Joe moved to New York in the late 1950s and later LA. She continued to perform a little, returning to Cincinnati to sing with the Pops Orchestra, but largely became semi-retired. Barbara did dabble in composing, however, and wrote, for Joe's new employer—Warner Brothers, the theme song heard at the beginning of the new Road Runner cartoon show: "When you're on a highway and Road Runner goes beep-beep…." That was Barbara!
It was during a little internet jaunt in 2010 that it was discovered that Barbara and Joe were alive and well and living near Ft. Myers, Florida. Their son, Doug, was an internationally famous violinist and daughter, Cam, was a successful cellist in Boston. A quick email, subsequent phone call, and a telephone interview was set up through Doug's personal studio. Barb and Joe told some great stories and a delightful hour was recorded for posterity. The two obviously were a great team.
The following summer, in 2011, the Martini family vacation was to take place in Marco Island and so arrangements were made for a quick jaunt up the Florida coast to visit the couple. When I arrived, however, I was surprised and saddened to learn that Joe had passed away several months earlier and Barbara, in her grief, had slipped into early dementia. While it was still a thrill to be in Barbara's presence (and to meet Cam and Cam's family), the earlier 2010 interview was clearly the final recorded word of her wonderful career. Still, we sipped iced tea, looked through photo albums and attempted to reminisce during a warm Florida Sunday afternoon visit.
Barbara rejoined her beloved Joe on January 6th, 2013. She was just shy of her 87th birthday. We extend our thoughts and prayers to Doug, Cam and her extended family.
---