« Back to Latest Posts
Quiz 1 – Elliott Lewis
September 27, 2013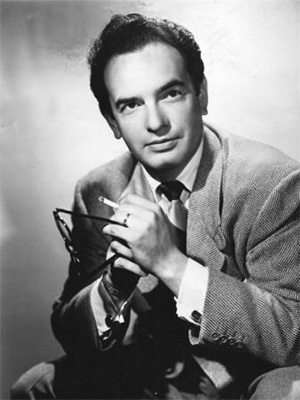 This week, and for the next few weeks, we're playing a game on our Facebook "Media Heritage, Inc." and "Big Broadcast" pages. If you'd like to play, "like" one or both of those Facebook pages and on Mondays, we'll post a photo of an old radio "second banana"…a secondary or character actor from the 1930s through '50s. You'll be instructed to email a guess as to the identity to our email and from the correct answers, we'll pick a winner for a prize each week on Wednesday night! Then check back here at the blog, later in the week, for the answer.
Our first contest photo features none other than Elliott Lewis, one of radio's busiest performers. Lewis started in radio in the 1930s and was equally adept playing dramatic and comedic roles. Probably Lewis' most famous "second banana" role came on the Phil Harris-Alice Faye Show, where he played the character "Frankie Remley"…Harris' purported drinking buddy and band-mate from The Jack Benny Program. However, in an unusual twist, there was a "real" Frank Remley who, after years of being portrayed as a boozer, finally decided he didn't appreciate his name being used in such a way. So, with very little explanation, Lewis's character had its name changed to "Elliott Lewis" for the 1950 season of Harris-Faye. Elliott Lewis remained busy throughout his career. He became the director of the popular Suspense program in 1951 and also appeared in film and early television. As recently as the 1970s and '80s, Lewis directed modern day radio dramas Sears Radio Theater and Mutual Radio Theater. His first wife, Cathy Lewis, was a successful actress and vocalist. Later, he married Mary Jane Croft who started her career as an actress on Cincinnati's WLW. Elliott Lewis died in 1990.
Find more "second banana" quizzes here.
---