« Back to Latest Posts
Roger Baker
April 22, 2013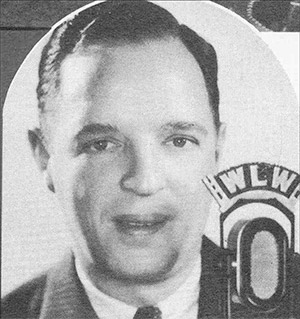 In December 1938, popular Cincinnati Reds announcer Red Barber turned down an offer to remain in Cincinnati and headed east to broadcast for his old friend Branch Rickey and the Brooklyn Dodgers. Left with a hole to fill, WSAI/WLW conducted a national search for an announcer who could take Barber's place. Ultimately, they hired Roger Baker from upstate New York. Baker had, by then, carved out a nice career as a baseball announcer for the Buffalo Bisons, a charter member of the International League minor league. Baker would broadcast Bison games over WGR and WKBW from old Offermann Stadium in Buffalo. In fact, he had done well enough as to catch the attention of baseball commissioner Kennesaw Mountain Landis, who asked him to help broadcast the 1933 World Series.
Baker had a rich, deep voice and immediately hit it off with "Fans in the Stands" host Dick Bray, who was carried over by the station following the Barber departure. Together, "Baker and Bray" made numerous public appearances together and enjoyed a successful on-air partnership. Indeed, Baker probably would have found a long career announcing Cincinnati Reds games if it weren't for the fact that WSAI/WLW (and WCPO, too) decided to stop sharing baseball broadcasting duties following the 1941 season. From that point on, rather than have two or three radio stations broadcast the same games, it was decided that only one was needed to do the work—and that opportunity went to WKRC and its new sole sponsor, Burger Beer.
Roger Baker remained at WLW as a staff announcer and, in 1942, he was named the Director of Public Relations for Crosley Broadcasting. But by 1945, Baker decided to return to Buffalo and, in the 1950s, was named GM of WBES-TV—one of the early UHF television stations. He later worked at WGR-TV before retiring to New Mexico.
Find more biographies from this series: Cincinnati Reds Broadcasters
---