« Back to Latest Posts
Bill McCluskey and St. Patty's Day
March 16, 2013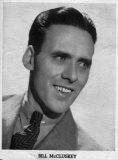 It's that time of year to remember St. Patrick and all things Irish and, for many older Cincinnatians, thoughts turn to the late Bill McCluskey. It was Bill McCluskey who co-founded Cincinnati's St. Patrick's Day Parade in 1968 and he was often Grand Marshal of that parade when he was not behind the microphone as television M.C. For well into the 1980s, television viewers enjoyed Bill's commentary as all things Irish passed by their TV screens.
Although born in Scotland in 1909, Bill McCluskey had plenty of Irish ancestry and turned that heritage, and a nice tenor voice, into a career when he immigrated to Pittsburgh, then Chicago, in the 1920s. He found work at WLS around 1932 as an Irish tenor and program host. One of his tasks was to host the famous "National Barn Dance" program, which featured many acts including the talented sister yodeling team: Millie and Dolly Good, the Girls of the Golden West. In fact, Millie and Bill were so taken with each other they were married in 1934.
In 1938, many of the WLS country acts moved to WLW in Cincinnati to appear on the "Renfro Valley Barn Dance" and the new "Boone County Jamboree." McCluskey was placed in charge of the road shows and traveled with the acts three or four times a week, every week, to small towns and fairs all around the Midwest well into the 1940s. Bill was a natural promoter and the WLW country staff enjoyed working with him. By the 1950s, the "'Jamboree" was known as the "Midwestern Hayride" and the road shows pretty much ended, and so Bill transitioned into sales, becoming one of the most successful salesman in the country during the early TV days. Of course, selling WLWT shows wasn't too tough with such talents as Ruth Lyons and Paul Dixon in the portfolio. Bill McCluskey enjoyed 50-years in broadcasting before retiring in the 1980s. Millie died in 1993 and Bill passed away in 1995. But even 20-or-so years later, folks still remember the man with the Irish brogue (which he only used this time of year, according to his son) announcing the parade he so loved and held dear.
---