« Back to Latest Posts
Bob and Ray: Keener Than Most Persons
September 16, 2013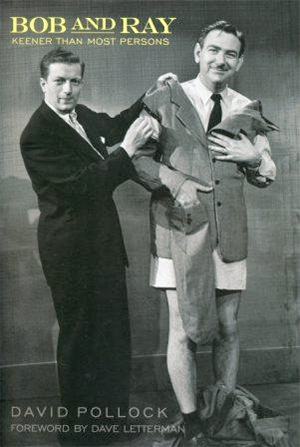 Few radio personalities had as much success advancing, and making fun of, radio broadcasting in the 1950s than Bob and Ray. With an off-brand and completely unique style of humor, Bob Elliott and Ray Goulding inspired and influenced many—from Bob Newhart to Woody Allen. The story of Bob and Ray has been told in depth for the first time in a wonderful new book by David Pollock entitled Bob & Ray: Keener Than Most Persons (Applause Books, 2013).
Beginning with their similar early lives, Elliott and Goulding first shared a microphone as a result of chance. However, by 1953, their first names were forever linked as they appeared over national network radio and on television. Later, they added Mutual, AFRS and NPR radio, Broadway, Johnny Carson, Saturday Night Live and even Carnegie Hall to their collective resume. In addition to their professional successes, author Pollock (a successful television comedy writer himself) explores the private sides of these funny and talented men. With the full cooperation of Bob Elliott, himself, and the late-Ray Goulding's family, Pollock provides a behind-the-scenes look at comedy and show-business in the 1950s and '60s that is informative and entertaining even for the non-radio fan.
Listen for excerpts of an interview with the author on upcoming Media Heritage's Big Broadcast programs and do a little digging yourself into the remarkable careers and clever wit of these two greats of broadcasting.
---