« Back to Latest Posts
Mrs. Dennis Day
March 1, 2013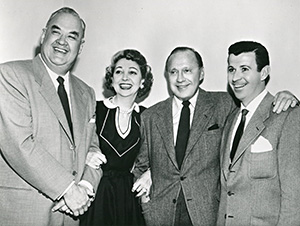 A friend sent me a small death notice recently from California noting the passing of Margaret (Peggy) McNulty Day—widow of Jack Benny Show vocalist Dennis Day—on February 1st. Mrs. McNulty Day was 89-years old. Dennis (whose birth name was Owen Patrick Eugene McNulty, but used "Dennis Day" as a stage name, legally combining the two names against his parent's wishes) died in 1988 at the age of 72 of Lou Gehrig's disease. The McNulty-Days were married in 1948.
We note this passing because their 40-year marriage produced ten children, which was a bit unusual for celebrities of that era. Six girls and four boys, none of whom apparently went into show business. Jack and Mary Benny had one daughter, Joan, Phil Harris had one adopted son with his first wife and two daughters with Alice Faye, his second wife. Don Wilson was married four times but I couldn't find any indication they had any children.
Dennis, by all accounts was a bit of a home-body. He and Peggy owned an antique shop in Santa Monica called The Old House, which kept her busy while Dennis performed with Jack Benny, and, for a few years in the late-1940s, his own radio show. But Dennis didn't like to stray too far from California and often turned down offers to tour the country. He was also very strict in deciding which TV shows to make guest appearances, shunning any show with "questionable material."
Dennis made his first appearance on Benny's show in October 1939, replacing a tenor named Kenny Baker. He missed two seasons of Benny serving in the Navy during WWII.
The Days are now interred together at Holy Cross Cemetery in Orange County, CA.
Jack Benny can be heard on Tuesdays on WMKV.
---