« Back to Latest Posts
Quiz 4 – Hans Conreid Jr.
October 17, 2013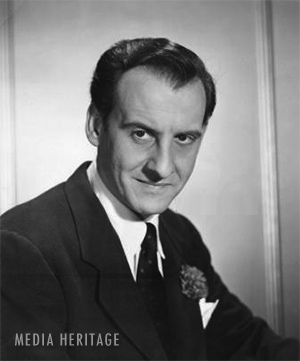 If you've just checked our blog, we're playing a game on our Facebook "Media Heritage, Inc." and "Big Broadcast" pages. If you'd like to play, "like" one or both of those Facebook pages and on Mondays, we'll post a photo of an old radio "second banana"…a secondary or character actor from the 1930s through '50s. You'll be instructed to email a guess as to the identity to our email and from the correct answers, we'll pick a winner for a prize each week on Wednesday night! Then check back here at the blog, later in the week, for the answer.
Hans Conried, Jr. is our versatile "second banana" this week. Born in 1917 in Baltimore, Conried began his acting career on stage doing mostly classical roles. He did a little movie work in the 1930s before joining Orson Welles' Mercury Theater Players in 1939. Hans was in demand during the 1940s and '50s (after serving in WWII) and had a regular role on Burns and Allen as George's psychiatrist, on Life of Riley as "Uncle Baxter," and "Professor Kopokin" on My Friend Irma. In early television, Conried played many guest roles, often playing professors and other professionals. He played several stodgy characters on I Love Lucy. Gilligan's Island fans remember him in a two-story arc featuring forlorn biplane pilot "Wrongway Feldman." It was in the late 1950s and '60s that Conried also became a popular voice-over actor for cartoons. He portrayed "Snidely Whiplash" on Rocky and Bullwinkle, "Captain Hook" in Disney's Peter Pan, and "Wally Walrus" on The Woody Woodpecker Show. Hans was active until his death caused by heart problems in 1982. Conried and his wife of 40-years had four children.
---