« Back to Latest Posts
Whatever happened to Roma Wines?
July 1, 2013
Fans of Mystery Playhouse and Suspense are no strangers to the sponsor Roma Wines. Have you ever wondered what became of Roma Wines? Schenley (the makers of Roma) were the sponsor of Suspense from December 02, 1943 to November 20, 1947. The familiar ads during Suspense boasted that the wine company from Fresno California was "America's largest selling wine" and that Roma was "Made in California for enjoyment throughout the world." The largest selling wine claim is what has always made me wonder what happened to the wine making giant.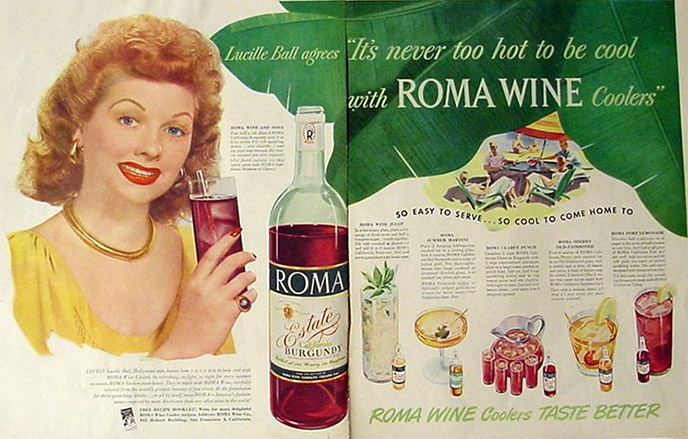 An article published in 1955 provided some excellent clues. The Roma Wine company was started by the Cella brothers in Lodi, California. They moved to Fresno in 1933 after acquiring another vineyard. The brothers sold Roma to Schenley Industries, Inc. of New York in 1942. The winery at this point was truly the largest winemaker and also were responsible for being innovators in the industry. By my count 34 different types of wine were offered by Roma including Sherry, Port, Ruby Port, Muscatel and Tokay. Of these wines many were bottled in dripless bottles. From this point on following Roma's history gets interesting. A newspaper article from the Lodi News Sentinel reports the sale of Roma Wines to Guild Wineries & Distilleries at the end of 1970. Then in September of 1975 there was a lawsuit involving Guild Wineries and the County of Fresno over the value of improvements to the winery and distillery plant. From that lawsuit we know that Guild Wineries purchased Roma for twelve million dollars then sold the vineyards, brands and trademarks, supplies and inventory to Buttes Gas & Oil Co. International Inc. for 4 million. Buttes Gas & Oil became Crescent Petroleum an Oil and Gas company founded in 1971 that is headquartered in the United Arab Emirates.
Note the photo showing Lucille Ball as a spokeswoman for Roma. She starred in a 1944 episode called Dime A Dance. Hear episodes of Suspense and The Whistler on Mystery Playhouse M-F at 7:00 EST on WMKV.
Read more about one of Roma's competitors, Petri Wines the sponsor of The Adventures of Sherlock Holmes.
---
Thank you to two of our readers for helping expand this article. Cassandra Morrison sent us a link to the Guild Wineries v. County of Fresno lawsuit. Nader pointed out that Roma Wines began sponsoring Suspense December 02, 1943. The first Roma sponsored episode, The Black Curtain, featured a superb performance by Cary Grant.
---