« Back to Latest Posts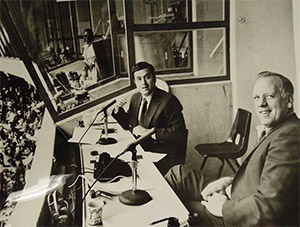 In late 1970, after three years as primary Cincinnati Reds play-by-play announcer, Jim McIntyre returned to Indianapolis (he was sports director at WFBM-TV), leaving a vacancy in the radio booth of the newly christened Riverfront Stadium. The Reds had just won the Pennant and lost the World Series but was given a new nickname: The Big Red Machine. So once again, a national search began for a replacement. The winning applicant came from about as far away from Cincinnati and yet still in the United States.
Alan Richard Michaels had been broadcasting baseball games for the minor league Hawaii Islanders since 1968. He also called games in other sports for the University of Hawaii and had a cameo role in an episode of television's Hawaii 5-0. In Cincinnati, as the new Reds announcer, Michaels started to gain some national attention when, in 1972, he announced hockey for the 1972 Winter Olympics in Japan and he benefitted from the Reds being in the World Series later that year. Michaels did his first NFL game while in Cincinnati, too, when NFL announcer Bill Enis died suddenly of a heart attack in 1973 and Michaels stepped in at the last minute for the Cincinnati Bengals and Houston Oilers game. Before the 1974 season, Michaels was hired away by the San Francisco Giants baseball team and UCLA basketball. He started calling NFL network games for CBS in 1975, network baseball on ABC in 1977 and gained fame for his work during the 1980 Olympics when he called the famous "Miracle on Ice" hockey semi-finals between the U.S. and Soviet Union. Since then, Al Michaels has become one of the biggest names in sports broadcasting—any sport—and currently can be seen broadcasting sports on NBC and the MLB networks. He has a star on the Hollywood Walk of Fame and this year was inducted in the Television Academy's Hall of Fame.
Find more biographies from this series: Cincinnati Reds Broadcasters
---