« Back to Latest Posts
Happy Birthday, Ma Perkins
August 14, 2013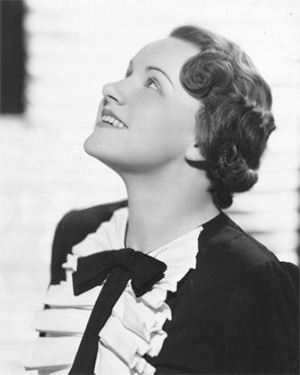 Ma Perkins was "born" at Cincinnati's WLW radio station on this date, August 14, 1933…80 years ago! The daily soap opera was a huge success and ran for over 7000-episodes, ending as one of the final group of dramas cancelled by CBS on November 26, 1960 (often called "the day radio died.") Between 1942 and 1949, the show ran on both NBC and CBS simultaneously! Cincinnati (Price Hill suburb)-native Virginia Payne played the title character for the entire run, not missing an episode. Covington-born actor Charles Egelston played "Shuffle Shober" for most of the seasons.
The origin of Ma is actually rooted in another program known as The Puddle Family that began airing on WLW in late 1931. The Puddle Family was created and written by St. Louis-based cartoonist H. J. Tuthill, who had a successful national comic strip called The Bungle Family. For his Puddles, Tuthill wrote a series of daily 15-minute scripts that were sent to WLW, where the station cast actors from its staff. The producer of the program, Erik Barnouw, was brought in by the ad-agency to supervise production and perform one of the smaller roles. Barnouw would go on to become one of broadcasting's great historians and scholars.
The Puddle Family was quite popular and it wasn't long before Cincinnati's Procter & Gamble eyed it as a potential showcase for its new Oxydol detergent, which it acquired only a few years before. In early 1933, P&G executives and WLW representatives took a train to St. Louis to negotiate a national sponsorship deal with Tuthill, but the cartoonist, dreaming of a big pay day, countered with unrealistic counter-proposal. Miffed, the executives returned empty-handed and so they convinced WLW to scrap The Puddles and come up with an entirely new concept—a daily dramatic series about a widow who ran her late husband's lumber yard. Egelston, who was one of the main actors in the Puddles, stayed on for Ma Perkins. Cast as "Ma" was 24-year old Virginia Payne, one of the staff actresses. By mid-December 1933, production of the show was moved to Chicago where it could be supervised by the prolific soap opera creators, Frank and Anne Hummert. While not the first daily dramatic serial, it is considered the first serial sponsored by a soap company—thus one could argue it was technically the first "soap opera." For years Virginia Payne was forbidden to appear in public without her "old lady" make-up and costume. The photo used here was a rare exception. Payne continued her acting career on stage, on Broadway and elsewhere, after Ma was cancelled. She returned to Cincinnati to teach and died at age 67 in 1977.
---